Golf Villas for Rent in North Cyprus
If you're a keen golfer, you'll love playing golf in North Cyprus during your villa holiday! For the keen player, there is one area in North Cyprus where you must consider when looking for North Cyprus villas for rent, and that's Esentepe.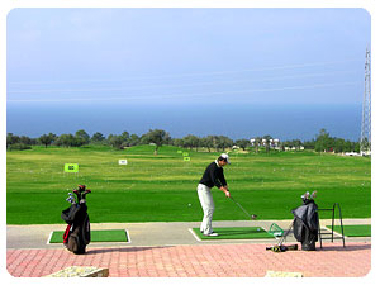 Esentepe is the golf hotspot in North Cyprus, as it's the nearest village to the new 18-hole international golf course at the Korineum Golf and Country Club. This superb 6,600-yard course is set amongst glorious natural scenery, including mature trees and shrubs. Just be careful - if you admire the views too long and don't concentrate on your swing, you may end up in a water hazard or a bunker!
Why Play Golf in North Cyprus
The climate in North Cyprus is every golfer's dream. You can play during the mild North Cyprus winters from November to March, with only the occasional shower to distract you, and celebrate your 'birdies' in the smart Clubhouse afterwards. During spring, you can enjoy the lush greens and wild flowers around the course, and by May, you'll want to book an early start time to avoid the heat of the midday sun. Many North Cyprus golf fans say that the months of September and October are the best, as the weather is beautifully warm without being too hot.
North Cyprus Villa Rental at Esentepe
By renting a villa at Esentepe from Amy Villas, you'll be right next to the Korineum Golf Course throughout your holiday. Improve your swing at the 30 bay driving range, enjoy top quality professional tuition in a private lesson, or just compare handicaps with fellow enthusiasts in the clubhouse bar or restaurant.
Choosing the Ideal North Cyprus Villa for Rent at Esentepe With Amy Villas
We here at Amy Villas realise that not every member of your family might be as keen on golf as you are! So, we offer a range of holiday villas in Esentepe that all the family can enjoy while you are out on the golf course! From private pools to shady gardens, sun terraces to DVD players, our range of Esentepe villas provide ideal holiday locations in and around Esentepe for a relaxing and fun-filled family holiday.