North Cyprus Ercan Airport
If you decide to rent a villa in North Cyprus, then you'll be delighted to discover that Ercan International Airport is not only convenient for all holiday villas in North Cyprus, but a very pleasant airport as well!
Forget the crowds and luggage collection chaos of south Cyprus airports, and welcome to the space, light and modern facilities of Ercan International Airport, the ideal start to a relaxing Kyrenia villa holiday. As you step off the plane and feel the warm North Cyprus air on your face before the gentle stroll to the spacious terminal, you may well wonder why all airports can't be like Ercan!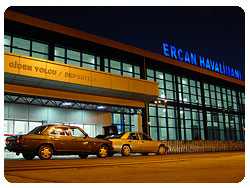 Have You Booked Your Flights?
Private Taxi Airport Transfers
You can add our private taxi transfer option from Ercan Airport and Larnaca Airports to your holiday villa booking very easily. For details, please read our airport transfer and border crossings page.
Flights to Ercan International Airport
Over 100 flights arrive at Ercan International Airport, including flights from several UK regional airports such as Stansted and Manchester. Cheap flights to North Cyprus are offered by Pegasus Airlines and Cyprus Turkish Airlines, so villa holidays in Northern Cyprus are an excellent choice for a family holiday in the sun that won't break the bank.
All flights to North Cyprus make a brief stopover in Turkey, but this usually only involves sitting on the tarmac for 20 minutes or so before jetting off to the sunshine of North Cyprus. You don't need to change planes, and the kids think it's great to visit two countries in one day!
Duty Free Shopping At Ercan Aiport, Northern Cyprus
When the time comes to vacate your North Cyprus holiday villa, it's time to consider what duty free you would like to take home! There are several duty-free shops at Ercan International Airport, and you can pay for your goods in Turkish Lira, Sterling, Euros or even US dollars. There are also duty-free shops at the ports in Kyrenia and Famagusta.
Since North Cyprus is not part of the EU (yet!), the current duty free allowance you can bring back to the UK for personal use is:
• 200 cigarettes; or 100 cigarillos; or 50 cigars; or 250g of tobacco
• 60cc of perfume
• 2 litres of still table wine
• 250cc of eau de toilette
• 1 litre of spirits or strong liqueurs over 22 per cent volume; or 2 litres of fortified wine, sparkling wine or other liqueurs such as port or sherry and
• £145 worth of all other goods including gifts and souvenirs.
You cannot pool your allowances, for example, to bring into the UK an item worth more than £145.
(For full details on duty-free allowances, see the UK Customs website at hmrc.gov.uk.)
Amy Villas: Charming Northern Cyprus Villas for Rent
With villa holidays in Northern Cyprus from Amy Villas, your transfer time from Ercan to your villa front door is usually a journey of minutes, not hours, so you can be from plane to pool in less time! You can arrange your private taxi transfer from Ercan Airport to your villa with one-click on Amy Villas booking form.
We recommend you book your flight first and then choose your villa for rent.