North Cyprus Airport Transfers and Border Crossings
When you are booking your holiday villa in North Cyprus from Amy Villas, you can book your private taxi airport transfer from Ercan International Airport in North Cyprus, or Larnaca Airport in south Cyprus with just one click.
You just enter your flight details, and our system does the rest!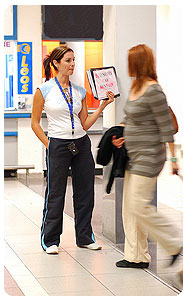 North Cyprus Airport Transfers from Ercan Airport
For the most relaxing start to your Northern Cyprus villa holiday, enjoy a flight to hassle-free Ercan International Airport and book a private taxi transfer from Amy Villas. One of our experienced taxi drivers will be ready and waiting for you when you arrive, and they already know where your villa is too! So, just sit back and enjoy the ride, as our friendly and knowledgeable drivers take you by private taxi (not shared minibus, cramped coach or packed people mover, note!) to your rental villa in North Cyprus.
Crossing into North Cyprus from south Cyprus
If you choose to arrive on a flight to Larnaca airport in south Cyprus, you can book a taxi transfer direct to your North Cyprus holiday villas with Amy Villas. Again, your taxi driver will be waiting in Larnaca Airport arrivals hall, ready to take you to the border with North Cyprus. No coaches to wait for, no queuing, just a relaxing drive across the countryside to the border with North Cyprus. Here, you can often just sit in the taxi whilst the driver helps you with the brief passport formalities required by border officials. Then, in no time, you'll be on your way to a relaxing villa holiday in North Cyprus.
Driving from south Cyprus to North Cyprus
If you arrive at Larnaca airport, it is possible to hire a car and drive into North Cyprus. However, you must advise your car rental firm that you intend to drive the car in North Cyprus, and you must also buy additional insurance at the border. The disadvantage of this insurance is that it is only third party, so if you damage the car or have an accident, you will not be covered. Further, if your south Cyprus hire car breaks down, your hire car company will not offer a breakdown service in North Cyprus. If you wish to hire a car during your villa holiday in North Cyprus, it's far better to book a taxi transfer from Larnaca airport with Amy Villas, and have us deliver your North Cyprus hire car to your holiday villa the next day, complete with full insurance, CDW and 24 hour breakdown assistance!
Private Taxi Transfers from Amy Villas
Remember to pre-book your Larnaca to North Cyprus private taxi transfer, or Ercan Airport to villa private taxi transfer, when you book one of the excellent range of North Cyprus villas to rent from Amy Villas.